Product Detail
Product Tags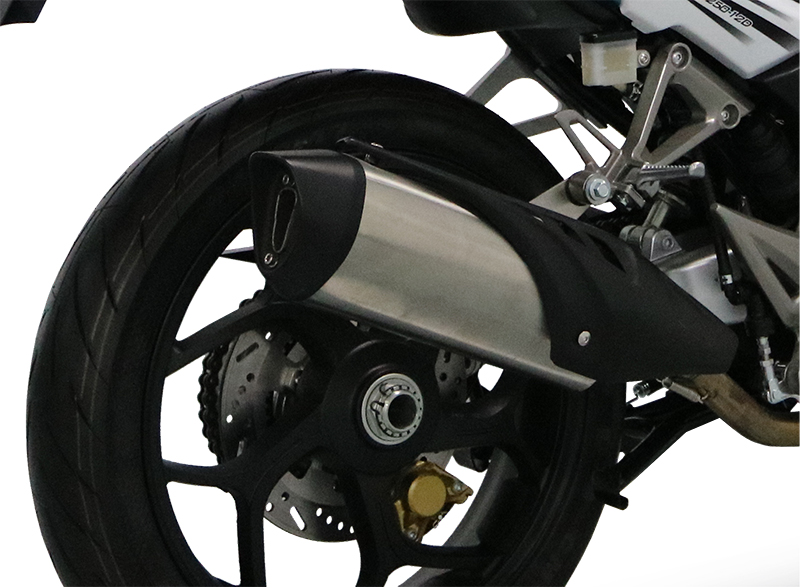 Full stainless steel muffler, beautiful and durable, strong sound.
With windshield .
Windshield can better diversion the wind , protect the driver's chest position from wind damage, and effectively reduce driving resistance when driving a motorbike.
Equipped with Hand guard
Beautiful and durable design, effectively reducing wind resistance, escorting motorcycle riding ,whole LED light .
New design, equipped with LED headlights, more safe when driving at night.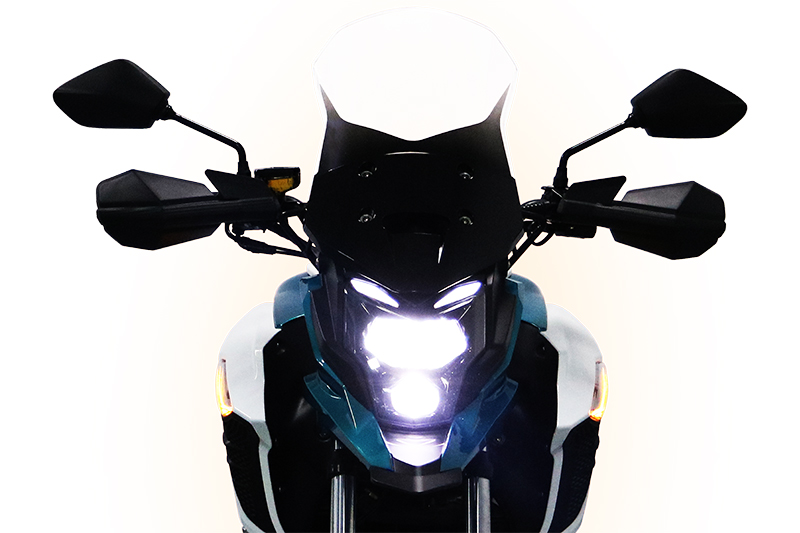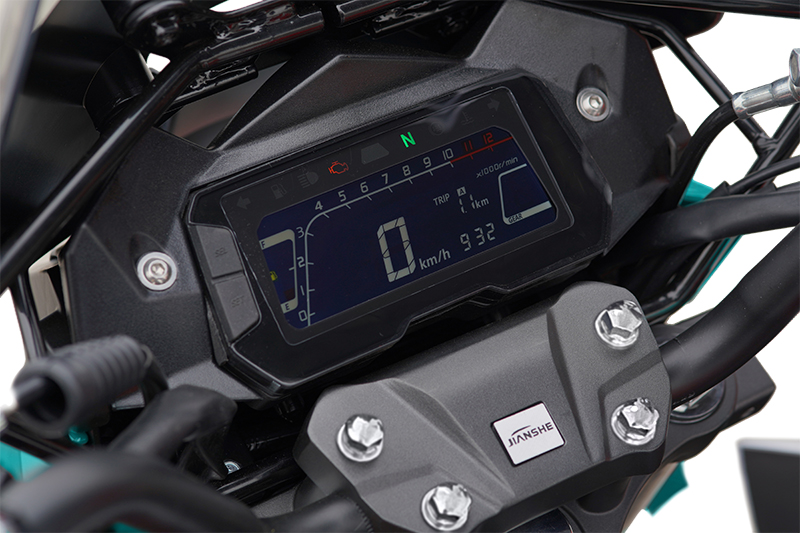 Multifunctional adjustable LCD meter.
Including speed, mileage, speed, fuel quantity, gear position, and water tank temperature. Master driving data anytime, anywhere.
Split structure double inclination design,wider lighting range and better warning effect.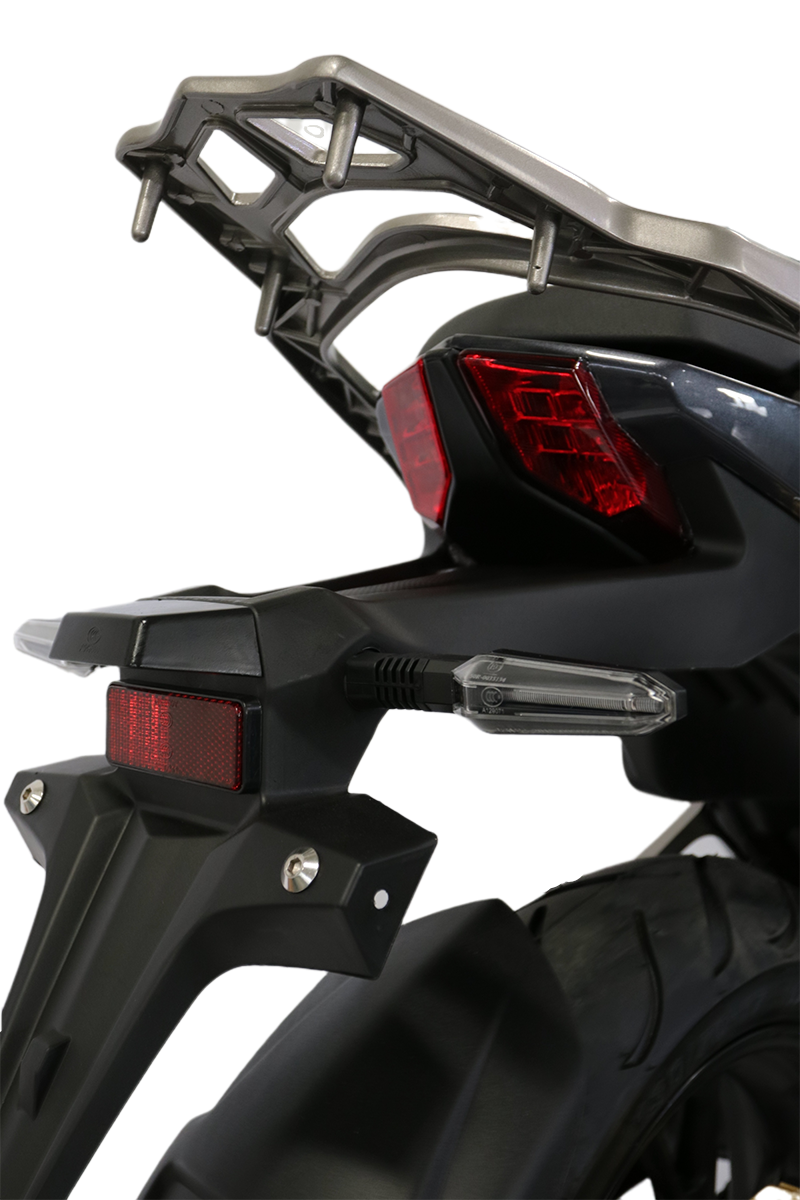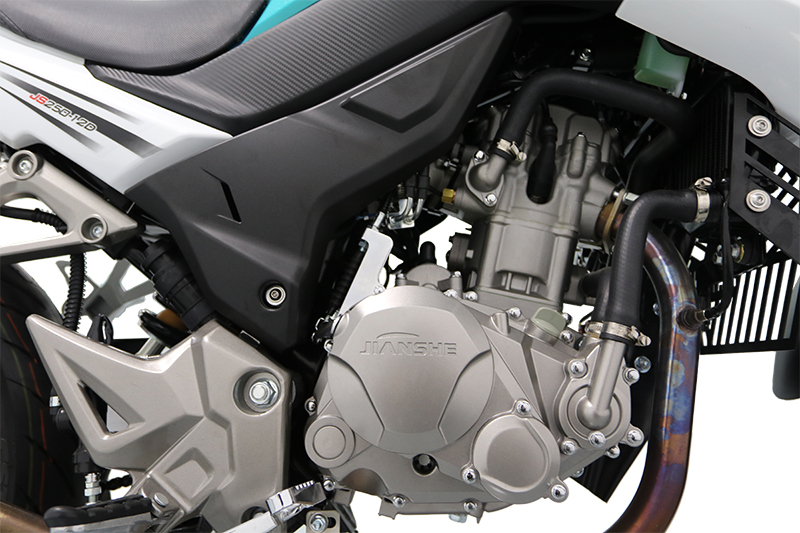 Strong power output and quick throttle response
247ml displacement EFI water cooled engine
Bore x Stroke (mm) is 69x68.2,Maximum power is 18.5kw/850rpm ,Maximum torque is 23Nm/6500rpm, with Electric start engine,Maximum speed (km/h) is 120Km/h.
Cool and unique look
Simplify the tediousness of replacing rims and chain maintenance, better performance in corners and more flexible handling.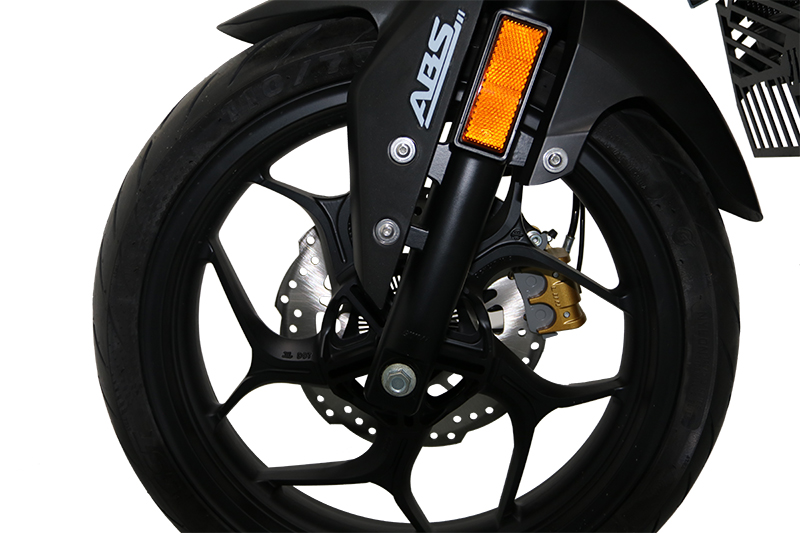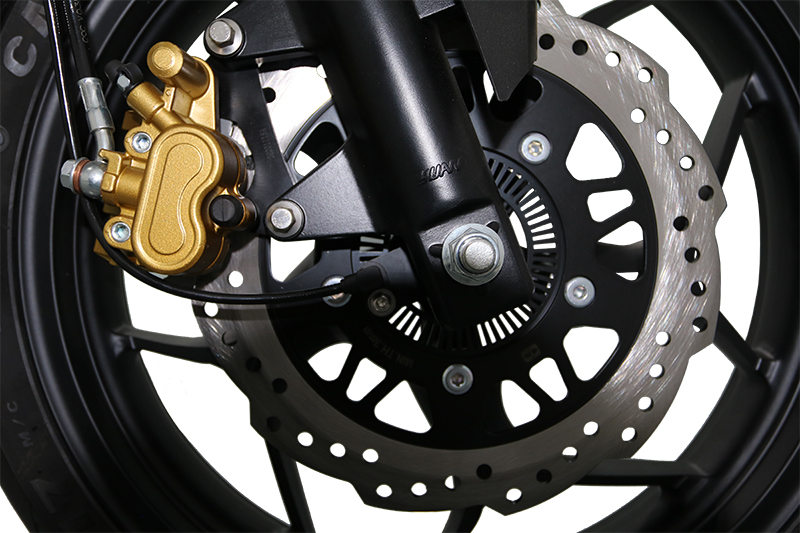 Dual-channel ABS anti-lock braking system.
Front and rear wheels are equipped with disc brake system, front disc dual-piston caliper, rear disc single-piston caliper.
It ensures the safety of high-speed braking and improves the safety performance of the vehicle during emergency braking.
Plus handle,make maneuvering more flexible.
Optimized saddle softness for a more comfortable riding position.
Dual throttle lines,easy to return, enjoy the instant rapid experience.
Daytime running lights with double-sided LED design are compatible with left and right turn indicators.
Seat height 760mm,more comfortable ride
Split water tank Metal water tank cover,provide strong heat dissipation effect and effectively prevent the impact of hard objects.
Ground clearance: 150mm high passability, easy to deal with a variety of road conditions.
This motorcycle 250 with chain drive ,easy to maintenant.
Length×width×height with 2100*870*1120mm,small and shorter to drive.
Tire size for front is 110/70-17,rear tyre size is 130/70-17.
Fuel tank volume (L) is 14L.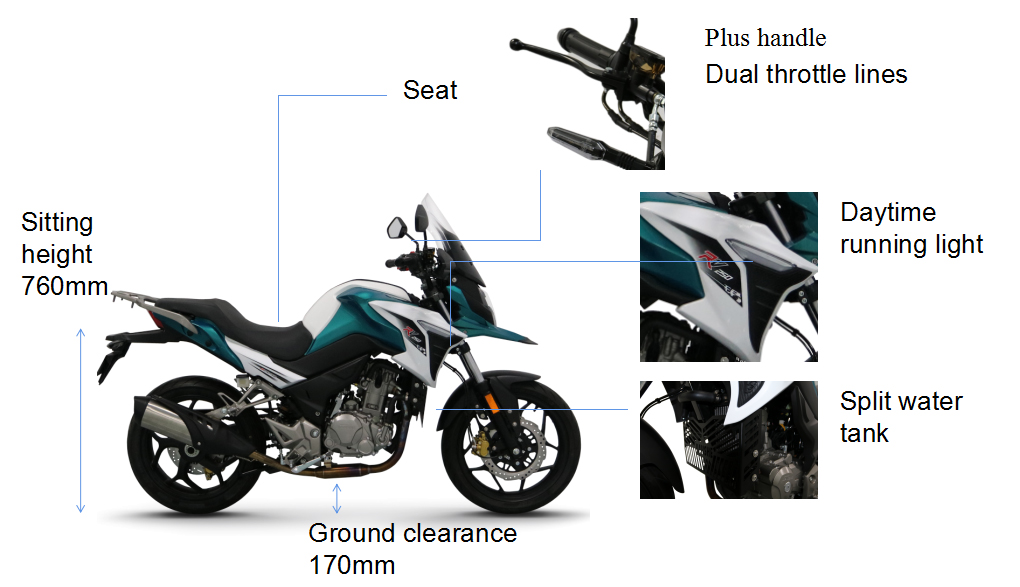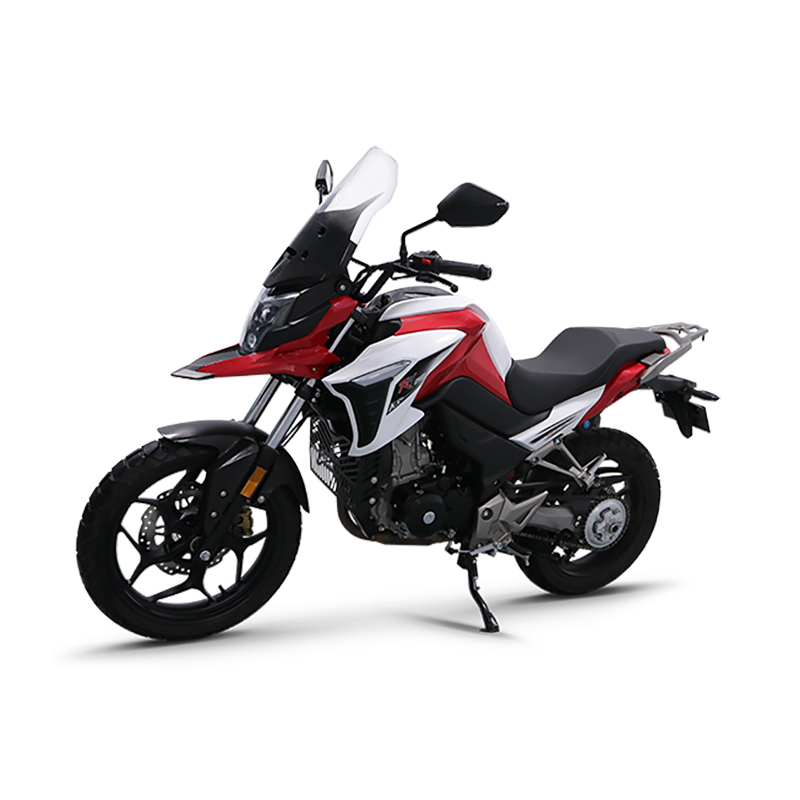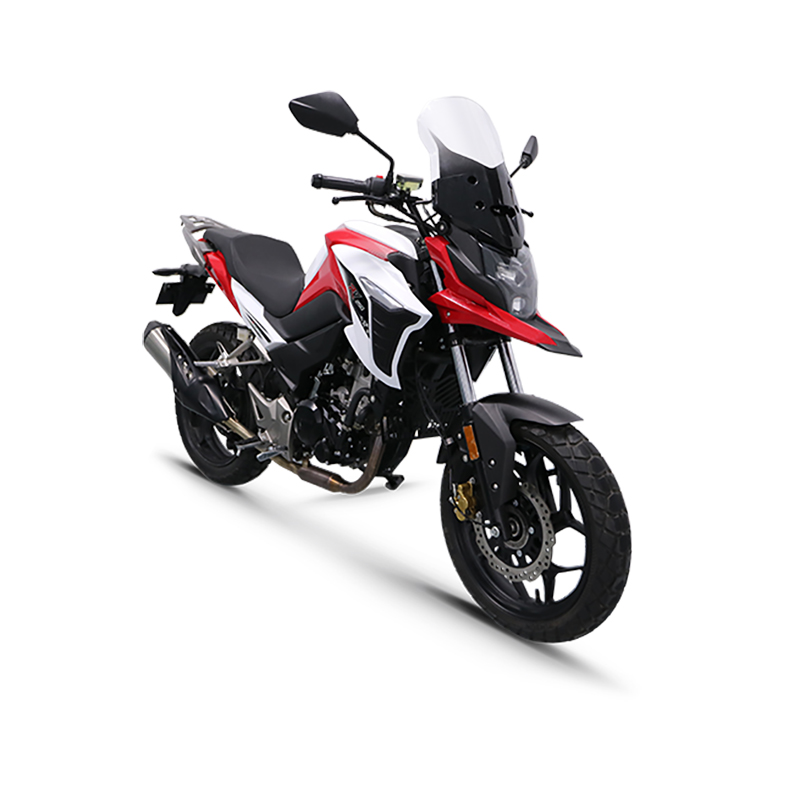 Engine
Chassis
Other configuration
| | |
| --- | --- |
| Displacement (ml)  | 247ml |
| Cylinder(pcs) | 1 |
| Stroke ignition  | 4 stroke |
| Valves per cylinder (pcs)  | 4 |
| Valve structure   | Overhead single camshaft |
| Compression ratio  | 10.8:1 |
| Bore x Stroke (mm)  | 69x68.2 |
| Maximum power (kw/rpm)  | 18.5/8500 |
| Maximum torque (N m/rpm) | 23.0/6500 |
| Cooling | Water  |
| Fuel supply method  | EFI |
| Start   | Electric start |
| Transmission  | Chain drive |
| Shift Type  | Manual |
| Transmission  | Chain drive |
| | |
| --- | --- |
| Length×width×height(mm) | 2100*870*1120 |
| Seat height (mm)  | 760 |
| Ground clearance (mm)  | 150 |
| Wheelbase (mm)  | 1380 |
| Total mass (kg)  | 305 |
| Curb weight (kg)  | 155 |
| Fuel tank volume (L)  | 14L |
| Frame form  | cradle |
| Maximum speed (km/h)  | 120Km/h |
| Wheel | Aluminum  |
| Tyre  | high grip tires |
| Tire  (front) | 110/70-17 |
| Tire  (rear)  | 130/70-17 |
| Braking system | disc |
| Brake Technology  | Hydraulic Disc |
| | |
| --- | --- |
| Instrument  | liquid crystal |
| Lighting  |  LED |
| Handle | Variable diameter |
| Battery  | 12v9A |
---
---